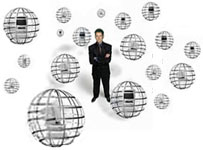 wardyga has been owned and operated by Dr. Brian J. Wardyga since 1990. Brian holds a Doctorate in Education from Liberty University, a Master's in Television from Boston University, and a Bachelor's in Communication from Bridgewater State. He currently works as an Associate Professor of Communication and General Manager of Radio at Lasell College. His professional vita includes work for organizations such as Bernie & Phyl's Furniture, Borders Books & Music, The Boyds Collection Ltd., GlaxoSmithKline and Ty, Inc.

Brian also worked for 10 collective years in TV Production as a Stage Manager and Computer Graphics Technician at WCVB-TV ABC5 for programs such as Chronicle, City Line, Commitment 20XX, The Evening News, Eye Opener News, Jerry Lewis Telethon, Midday News, Patriots Pregame Show, Patriots 5th Quarter, and the PGA Tour. Prior to WCVB Brian worked as an Associate Director for WLVI-TV WB56 on programs such as Keller At Large, New England Stories, Patriots SportZone Kickoff, The Sports Zone and The Ten O'Clock News. He also served as a Post Production Assistant at WGBH PBS2 on the Building Big documentary series. Throughout his employment in the media industry, Brian has taught both graduate and undergraduate courses at colleges and universities such as Boston University, Curry College, Fisher College and University of Massachusetts, Boston.

His array of courses taught includes Advanced Radio Production (II), Advanced Television Production, Advanced Video Production (II), Communication Research (graduate level), Digital Video Editing, Fundamentals of Communication, Interactive Broadband Television, Media Literacy, Oral Communication, Public Speaking, Radio Production, Television Studio Production, Understanding Mass Media, Understanding Video Games, Video Games & Culture, Video Production (graduate & undergraduate), and Writing for the Media.